Taman Twist Tie Wire Plastic Cable Reel With Cutter
Berkebun twist tie wire juga dipanggil reel kabel plastik taman , bukan sahaja untuk berkebun, boleh menggunakannya di bawah kes-kes yang berbeza yang anda perlukan untuk mengikat barang, ganti tali pembungkusan biasa. Terdapat pemotong di sekeliling hubungan twist, anda boleh memotong dawai dengan mudah, hanya tekan pemotong yang anda boleh mendapatkan apa-apa panjang tali ikat twist yang anda perlukan.
Spesifikasi
Product Name

Garden Twist Tie Wire Plastic Cable Reel With Cutter


Regular Size

2.0mm*0.45mm for oval, 3.0mm*0.45mm for flat

Material

PE +

galvanized iron wire

, PVC + galvanized iron wire

Color

black, white, red, yellow, blue, green, pink, purple, brown, gray, etc.




Wire Diameter

0.4mm - 0.7mm

Length

20m, 30m, 50m, 100m or as required

Width

1.0mm - 4.0mm

Usage

for plants binding and fixing...


Type

Single wire


Shape

round, oval, flat(wire on one side, wire on two sides)
Paparan Produk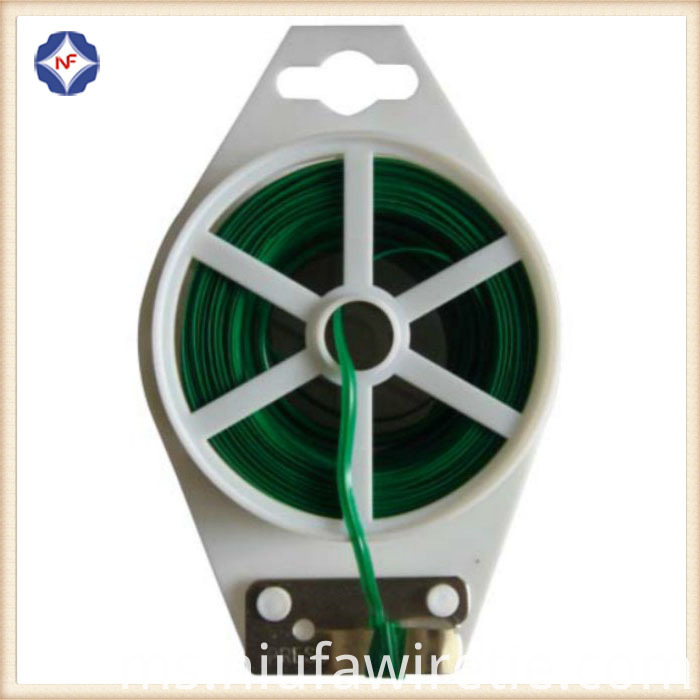 Butiran Pembungkusan
| | |
| --- | --- |
| Packing 1 | 20m/roll, 30m/roll, 50m/roll, 100m/roll with no paper card |
| Packing 2 | 20m/roll, 30m/roll, 50m/roll, 100m/roll with paper card |
| Shipping | sea, air, express |
| Delivery | 5-30 days after payment done |
KENAPA PILIH KAMI?
1. Kualiti adalah jiwaku, pengalaman selama 15 tahun untuk menghasilkan hubungan twist plastik, tiub plastik, dawai hidung plastik dan jalur anjal.
2. Harga yang kompetitif.
3. 8 jalur pengeluaran untuk memastikan masa yang singkat.
4. Sampel adalah percuma, anda boleh memilih sebarang item atau beritahu kami butiran produk.
5. Kami akan cuba yang terbaik untuk menjawab soalan anda atau menghantar sebut harga kepada anda dalam masa 24 jam.
6. Selamat datang melawat kilang kami pada bila-bila masa.
Profil Syarikat
Dongguan Niufa Plastic & Hardware Co., Ltd didirikan pada tahun 2002, 15 tahun pengalaman, kami telah menonjolkan reputasi yang baik di rumah dan di luar negeri, terutama di Amerika, Asia dan Timur Tengah. Kami adalah pemimpin dawai bersalut plastik (tali twist, tali leher mini, dasi vinil) , tiub plastik, dawai hidung plastik dan pengeluar jalur elastik di China.
Kami mendengar keperluan anda dan membantu anda mencari penyelesaian yang betul. Kami komited untuk menyediakan produk dan perkhidmatan berkualiti terbaik pada harga yang kompetitif kepada anda.
Marilah kita menjadi sebahagian daripada kejayaan anda!
Kilang kami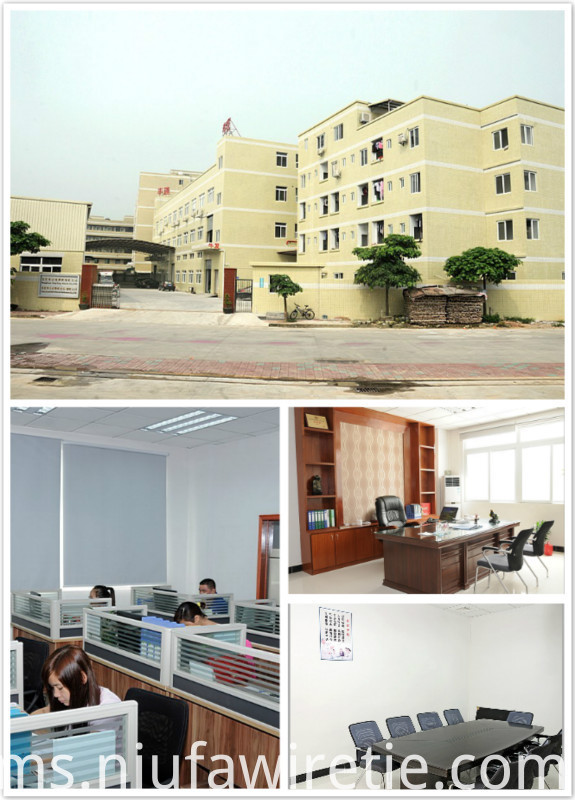 Kategori produk : Tie Twist Plastik > Berkelah Twist Tie